Each of the six distinct Hocking Hills Ohio State Park areas offers its own brand of adventure and attractions in Ohio. Discover the personalities of Old Manís Cave, Ash Cave, Cedar Falls,
Lake Logan
and
Rock House
. Plus, wander
Conkleís Hollow
and the Hocking State Forest. Whether your idea of outdoor adventure is a gentle hike in the woods or rappelling down a massive rock face, the Hocking Hills, Ohio tourist attractions are for you. With more than 10,000 acres of deep forests, hidden trails, soaring cliffs, and sheltering caves, Hocking Hills offers some of the most unique outdoor attractions in Ohio.
After explo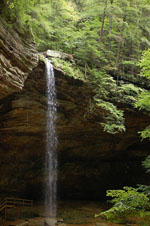 ring the caves, try something new at many other Hocking Hills, Ohio tourist attractions! There are canoe trips down the Hocking River, historic train rides, washboard factory tours, small towns to discover and museums to wander. Hocking Hills has numerous Ohio tourist attractions for you and your family.