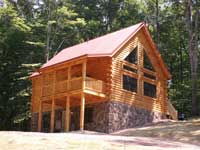 Red Creek Mini-Lodge
Red Creek Cabin is a Brand New Cabin with Lodge amenities just a smaller package. Opening in August 2010 and is conveniently located to the Hocking Hills State Park and attractions yet is secluded on a hillside within the beautiful Hocking Hills Ohio.

The perfect getaway, Hocking Hills Cabin Rentals are perfect for small families or friends who wish to be close to nature yet want to be pampered with a feature rich set of amenities.

Wyrick's Mini-Lodge and Cabin Rentals can accommodate up to 6 adults or 8 with children comfortably.