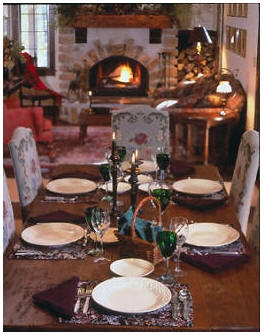 Bring your appetite when you arrive at Glenlaurel because our chefs will grace your taste buds with a fabulous dinner topped with exemplary service. Enjoy your candlelit meal surrounded by nature - from deer, to bunnies & birds, and other creatures of nature, you're sure to rest in comfort at Glenlaurel. Evenings begin with social time at 6:30pm with hors d'oeuvres, followed by a leisurely five or seven-course candlelit dinner (jackets requested on Saturday).
Outside guests are welcome to dine. Please call 24 hours ahead to reserve your spot,
(800) 809-REST (7378). It's the perfect place to enjoy dinner and/or a getaway in comfort and peace. Glenlaurel's culinary drama has also been featured in several state and regional publications & is an experience like no other.